2014 - Johnny Depp concert, Stones ashtrays in Madrid

(These Duesenbergs are just much, much better than these guitars of the 60s)

On New Year's Eve I was with Paloma in Palermo, Sicily. One of the best places to spend the turn of the year! From there, just outside the center, there is a kind of underground cemetery, catacombs of a 16th century Capuchin monastery, where over 2000 people have been buried. But not in coffins, but mummified, dressed, standing or sitting. This is a bit creepy, and most female visitors go out of there right away. Besides, taking pictures is forbidden, but that didn't stop me from taking all kinds of snapshots. I put this nice text into the mouths of the two mummies on this photo. But it was rejected by our advertising department as a motive for advertisement and so it was unfortunately not published anywhere until today.
NAMM
On this photo a Johnny Depp special model with tremolo, which he used quite often. And always nice people at this four-day meeting!
The Eagles in the Forum Arena

Instead of inviting customers and distributors to his restaurant in Fullerton on Friday, Nathan had the glorious idea of renting a Hummer stretch limousine with driver and taking us to an Eagles concert at the "Forum" in Inglewood.

It was quite an uplifting feeling to listen to the Eagles from the seats and my heart leapt with joy every time Joe Walsh, Glen Frey or the bass player appeared on the video screen with a Duesenberg instrument. We got into conversation with the two girls in the row in front of us, who were so excited about meeting us, the creators of these fantastic instruments that are constantly played on stage, that it almost came to a fling.

Oh, and at Joe's we could also introduce ourselves afterwards. A great evening ...
College-Event with Johnny Depp & Co.
As every year, Duesenberg organized the already traditional Imperial Ball NAMM after-show party together with 65Amps, TonePros, American Hot Rods Inc., Tatuaje, Sapporo and the Fullerton FMC Museum. While in the last years it was held in Fullerton, this year we moved to the Servite High School in Anaheim.

The following text was written by Andrej Lillak at that time for our blog. I have to say that I was at least halfway through the whole concert in a foul mood, which I will explain in more detail below.
Andrej's Blog
(By the way, Martin Huch sat in the first row with his backstage pass and took a huge number of sensational photos).
As soon as you entered the hall, the world was a completely different one. Duane Mayer from American Hot Rods supported the party by placing a selection of his coolest hot rod cars around the venue. And he even put a blue 40′s Chevy on the stage.
The whole location was unique, weird and at the same time really cool. Understatement and exaggeration curiously took each other by the hand.
And the crazy thing was that everyone present was on a simple high school stage.

The Fullerton blues man "Bubba" played the "warm-up" with his very smooth Texas blues in SRV style. Lots of sound and feeling - absolutely amazing. (Photo from another concert)
Mike Campbell & The Dirty Knobs
Then the curtain rose for the first part of the show. I was staring intently at the stage as Mike Campbell & The Dirty Knobs put on a great show, surrounded by two shiny hot-rod cars. Most of the time Mike played his Duesenberg Mike Campbell II signature hollowbody guitar. I had never seen The Dirty Knobs live before and was very impressed with the ambience and sound of the whole show. Intellectual songs and extremely well articulated guitar playing, and that's what this show was all about - "She Likes To Lick My Finger" was my personal favorite, which still reverberates in my head.

Thanks a lot, Mike!
 It was a real pleasure!


Then Marilyn Manson came on stage. Now you can say and think what you want about Manson, but this man has a kind of raw energy in him that few people have. Absolutely powerful, absolutely shocking and absolutely amazing. It was literally a kind of "wake-up call" that this night would be much more interesting than expected.
After the last chord of his song "The Dope Show" vibrated through the room, two words hit the crowd like a baseball bat. Probably only few visitors knew anything about the actual star of the evening: The guy on stage, that was Johnny Depp. The name came up and the crowd cooked.

As cool as he is on the screens of this world, he is just as cool on stage. Johnny Depp definitely knows how to be cool. As a musician he was sympathetic and skillfully restrained that evening. As one of three guitarists on stage he knew how to set the right cool tones at the right time.
But this show was not (only) about proving his skills - it was much more about having fun on stage and enjoying the energy of it all.
Given the front men that Johnny brought on stage one after the other, energy was a given. Hardly anyone knew who would join Mr. Depp on stage. And when Marilyn Manson entered the stage again, it was clear that this evening would hold some surprises.


Then Alice Cooper joined in. With an outstanding smile and already swinging his famous walking stick, he started the show with an interpretation of the Doors AgitProp song "5 To 1″, followed as a medley with the Doors song "Break On Through". I wouldn't necessarily call myself an Alice Cooper fan (especially since it wasn't my decade), but I was absolutely entranced by the performance and the contagious enthusiasm this man unleashed. To top off his show, he ended up giving his cane to one lucky person in the crowd (he'll certainly have an arsenal of canes at home...
One of my personal highlights that night was Cooper's classic "School's Out" and the way he mixed it with "Another Brick in the Wall" - overwhelming.
 Youtube videos probably can't reproduce what happened in that moment, but you should watch it anyway.
After the set, there was a moment of silence and general murmuring. The audience began to say, "What's next? Is there anything coming next?". Alice Cooper had brought the crowd to a boil and set an almost unbeatable energy level even beyond Manson.

A technician placed a microphone stand with some long ribbons on the stage. Someone behind me screamed, "You're kidding me!"
 All those who knew what this particular stand meant started clapping and cheering. Steven Tyler appeared on the stage, walked towards the microphone and croaked that he had to apologize because he had problems with his voice at the rehearsal.


But it didn't seem to be a problem and immediately all hell broke loose. He screamed, gestured and danced around on stage. The audience was breathless and intoxicated by his voice. I thought he could perform one or two songs in this way at best, but in the end he sang a set of five songs (one of them all alone with an acoustic guitar). And all songs were loaded with power and energy right down to the last note.
So was an extremely cool and smoky version of "House Of The Rising Sun", which ended in the Aerosmith classic "Train Kept A Rolling".
 And without interruption he danced and swung his microphone stand over his head in the old rock'n'roll manner. A total bundle of energy - great respect for this contribution!


After Steven Tyler's last song Manson and Cooper came back on stage and the whole ensemble played the Beatles song "Come Together". That was it. The crowd was overwhelmed - happy faces everywhere. Now Nathan Fawley entered the stage, thanked Johnny and everyone else and looked relieved that everything had worked out so well. So I got a few little insights into what it was like to organize such a show. And believe me - you have no idea. Many thanks to Nathan and all the others who organized the show. Great job!


Finally, Nathan had his son bring a "Duesenberg Fullerton CC Hollow" guitar onto the stage, which was signed on the back by all the actors of the evening. And Nathan announced that this guitar would be auctioned off and the proceeds would be donated to charity. But such a guitar is not so easy to buy at auction. I saw some really big eyes in the crowd.
The bids were coming in faster and faster, and when the highest bid was $20,000, Nathan asked Ingo if we could put a Johnny Depp signature guitar on top of it - Ingo nodded.
Finally, both guitars together fetched a whopping $36,000!
Little by little the guests left the room; chatting, laughing, some drunk, some sober, some silent, some relieved. 
I stood next to Ingo, Dieter, Martin and the others as if rooted to the spot and just let the moment breathe for a few minutes. What a successful evening!
Yellow card!
So, that was Andrej's report. Unfortunately I really freaked out during the auction. Nathan allegedly couldn't give me a backstage pass because of the high security precautions, nor to either Paloma or my daughter Jule, who was also at the auction. I could see Nathan's whole family backstage. When everyone was off the stage, I went up to him saying: "If we have another concert like this next year and you can't make sure that I, as the founder of the company, have access to all the seats I need, you'll have to get your guitars from somewhere else." I was pissed off and really close to blowing this guy out of the water. Nathan was very disturbed and then immediately had his wife call me in at the musicians' door. Yes, thanks a lot ...

At least I met Johnny Depp, who was just about to leave the room. It was a warm meeting and I was even able to give him a DVD of our Dooros-Formentera concert. Johnny also likes the Doors. Martin photographed the presentation.
Paloma and Jule were also outraged about Nathan, and I'm sure the beach granny on the right would have been too!

Paloma and Jule were also outraged about Nathan, and the beach granny on the right would certainly have been too!


So then we went to Mexico for some weeks - see under "Travels, places, miracles and desasters!
Joe Perry
Back to the music! Yes, Martin's photos are always a pleasure. After the NAMM he also captured the Aerosmith veteran. What an exotic guy!
Rolling Stones - in Spain always called "Los Rollings" ...
My oh my, how could this all be? We, göldo and Duesenberg, are connected to all these top acts: Stones, Aerosmith, Mike Campbell, Hollywood Vampires, Peter Stroud, Eagles etc.
Pierre Debauford, Keith Richard's guitar tech, had mounted an ashtray on the two front corners of the drum riser. Underneath it was a suction hose that pulled the cigarette smoke under the stage using an industrial vacuum cleaner so that Charlie Watts, who had been diagnosed with throat cancer shortly before, would no longer have to suffer from these emissions. And there was also no other place where these ashtrays could have been positioned. Pierre let me know that his design was working, but I had an idea to perfect it, because a Stones concert was due to take place soon at Madrid's Bernabeo Stadium.
The main problem was that these bakelite ashtrays were attached with Velcro tape over the exit hole below. But that kept coming loose, and the ashtrays moved from the vibrating stage noise and did not stay in position. Keith and Ronnie enjoyed the tobacco or even hashish consumption, but Charlie was still annoyed by it.
I came up with the idea of constructing ashtrays with a steel plate with many small holes in the bottom. I had to anchor some strong neodymium magnets in the small tables so that the ashtrays could simply be attached above them. Click and ready to remove in seconds. They were made of bamboo wood, and I had twelve stainless steel pins drilled all around so that the cigarette butts could not be driven away by the wind.

A book about the Stones, here Ronnies Guitars!


And our lapsteels with Multi-Bender were unstoppable on their triumphal procession.


The new "Berlin-Amp", the Fullerton "Elite" and beautiful Pearl-Tops

Rolllings Stones - Madrid - Bernabeo Stadion

At the end of May I received an e-mail from Pierre asking if I had the new ashtrays. Sure, everything available and ready for installation!
The Stones have always had a gigantic stage construction, which became more and more complex from tour to tour and took a few days to set up - not to mention dismantling. Then the call whether it would fit today - two days before the show.
And so Pierre, Michael "Derek" Phelps (Daryl Jones's bass tech) and Ronnie's guitar tech Ken came to visit my workshop in Madrid. Once again a high level visit. Actually, they could have brought Ronnie with them, who would have been interested.


They looked around eagerly and I explained some of my projects in progress to them. Of course, I also presented the ashtrays. And it was here that Pierre, who was the first to fiddle around in my Plexi hanging chair, had the idea of tailoring a special guitar for Keith. Keith runs his own production label called "Mindless", and his logo is a skull with an oval hole in the skull, because Keith knows very well that many people have a big hole in their head. So we brainstormed on the computer and designed a body in the shape of a caribou, but "reverse" and with this logo on it, the outer edges "born" reggae-like green-yellow-red.
Yes, a new project ... which should be finished much later, in the year 2020. That's how it can work with the superstars - also see Bob Dylan.

Finally, I was able to bequeath to Pierre the aforementioned mentioned tweed suitcase. And in the evening we invited the boys for a really good paella in the Galician restaurant "Terra Celta" just around the corner. I hardly believe that there is such a good Spanish place where these guys come from! Afterwards some drinks in front of the hotel at Plaza Santa Ana, where the toreros usually stay.

Anyway, Paloma and I took good care of the boys and on the day of the concert we got an extremely pleasant "payback": backstage passes with all the trimmings. As a souvenir we had two guitars with us, of which was a Carlton we wanted to give to the Stones for an auction for charity (signed by the Stones, of course), and an Outlaw with the request to have Mick, Keith, Ronnie and Charlie sign it for us, because it was meant for our Hanoverian museum. At the time, we had no idea that instruments signed by the Stones could often be worth well over 100,000 euros. But years were to pass before we finally got the Outlaw back. More about this later!
Bernabeo Stadium, Madrid
So, backstage at Bernabeo Stadium, the home ground of Real Madrid, the hated soccer club. The new, much more modern stadium of my favorite team Atletico Madrid didn't even exist at that time.
Anyway, an impressive atmosphere, and as always, they had built this catwalk right into the center of the stadium, where the Stones would perform a blues set in the old style.
Duesen on stage ...

Here Ken with a DCC for the auction and the Outlaw, where I celebrated the soundcheck.
Ashtrays
First mount the ashtrays! Pierre screwed the ring-shaped sheet steel disks onto the small tables, whereupon the neodymium magnets embedded in the bottom of the ashtrays docked practically immovably. And underneath, the two holes in the wood that held the suction hoses, so that all smoke disappeared immediately under the stage. Charlie Watts was saved!

Soundcheck with the Techs

And then Pierre said: "Come on, let's do the soundcheck and you play your Outlaw on Mick Taylor's amp, who would perform as a "special guest". Yes, Outlaw plugged in, but nothing else happened at first. Nobody started to play. So I played the intro of Roadhouse Blues in the hope that the guys would get into it. But it was not accepted. Sure, I would have liked to sing, but the mics were still off.

And then Pierre said: "Come on, let's do the soundcheck and you play your Outlaw on Mick Taylor's amp, who would perform as a "special guest". Yes, Outlaw plugged in, but nothing else happened at first. Nobody started to play. So I played the intro of Roadhouse Blues in the hope that the guys would get into it. But it was not accepted. Sure, I would have liked to sing, but the mics were still off.
You can see all this from Paloma on Youtube at https://www.youtube.com/watch?v=c3pTvoXUMIU&feature=youtu.be. With the Outlaw over Mick Taylor's amp I had a great sound, and watch out for the yellow spats over my Birkenstock sandals.

But that was not all! After enjoying an excellent catered dinner, we were directed to the light desk from which we had a first class view of the stage. The concert was a real blast. These gentlemen are getting better and better from year to year despite their increasing age. A stirring show from these incredible musicians, with all these visual effects just can't be topped.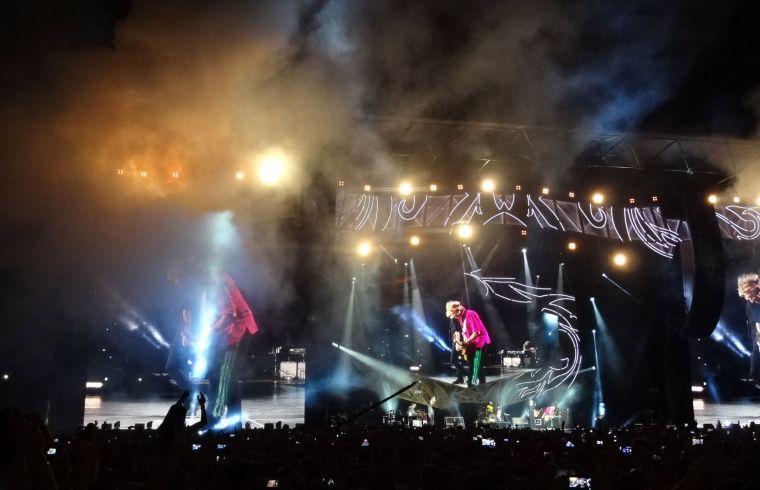 Well, see you next time!
Bass-Hardware
A somewhat Wandré adapted hardware design ...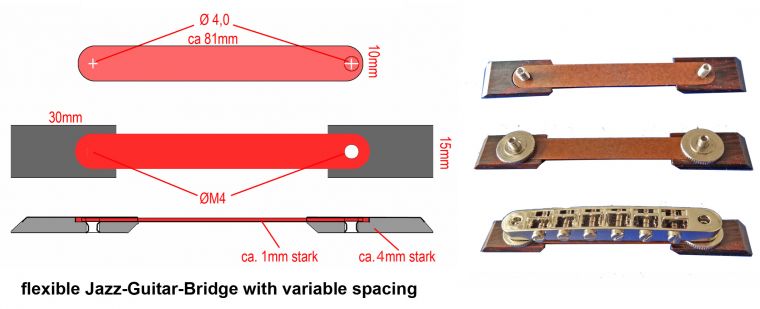 all kinds of designs ...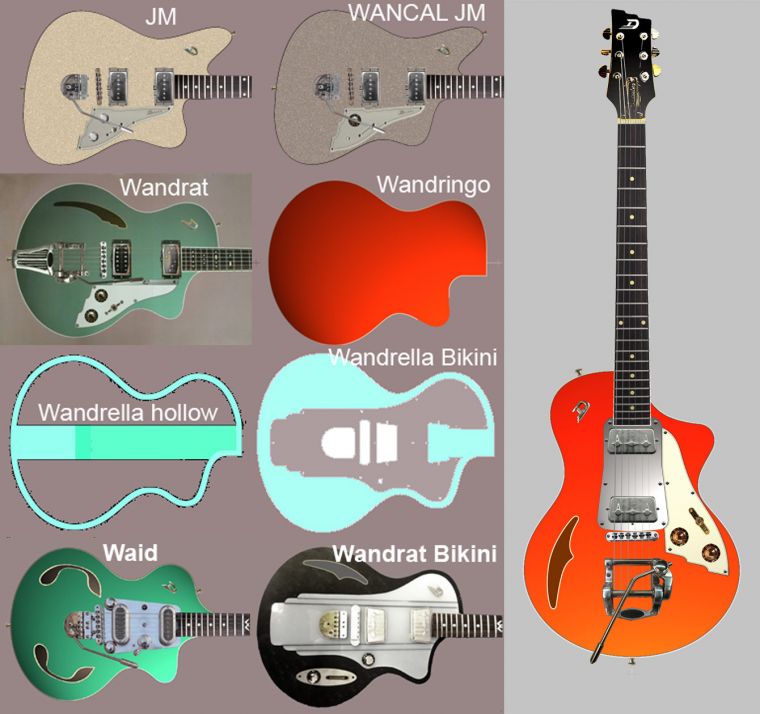 Here you can see very nicely how the maple neck goes through to the tremolo front. Hold "only" wood instead of aluminum ... In the end this became our "Julia" model.

Small technique article from me about an incredible tremolo!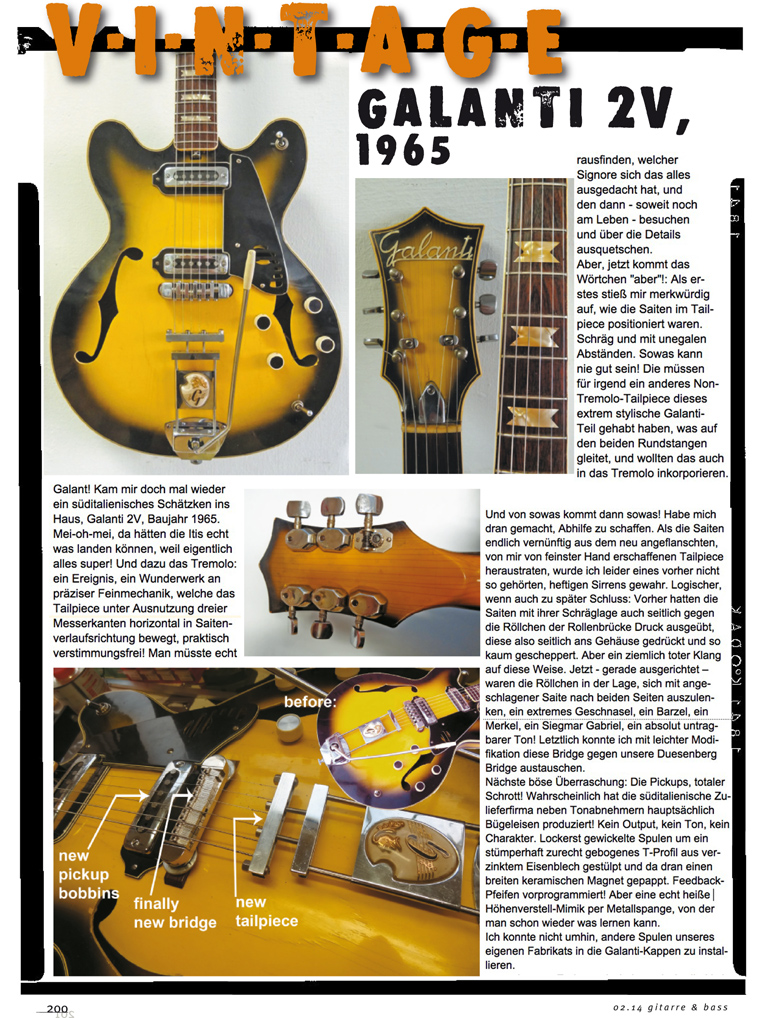 here in Englich:
Coming in here an Italian babe, Galanti 2V, built in 1965. Wow, the spagettis could have been landing something great with this one. Actually all amazing, specially the tremolo: a happening, a technical marvel of precise craftsmanship moving the tailpiece by using 3 three!!! knife edges horizontal in the direction of the strings. Practically not going out of tune! Would be interesting to find the signore who is responsable for that and - if still alive - make a visit and put a lot of questions and to have a nice talk.
But... now we have the little word "but"!: First strange thing I noticed was the way the strings were positioned in the narrow u-shaped tailpiece block. Angled and with different distances. This can never be good! On the other hand you see this stylish Galanti logo sliding on the two bars leading to the tailpiece. I am sure they used that on another non tremolo standard tailpiece and were so exited of it that there was no way not to incorporate this with the trem. The two bars are in parallel and so the two ends end up just there, where usually should be the holes for the low and high E-strings. Fortunately I found a way to solve this. Used shorter bars and fastened another u-shaped tailpiece block in the "old" block, where the strings then came out with correct spacing and distances.
But then I became aware of a rattling / sizeling of the saddles of the roller bridge what I had not heard before like this. Well, not enough pressure anymore! Before the strings had an effect of pressing the little rollers aside against the housing, which was finally preventing noises but neither supporting a good tone of each string. Had no other bridge with the same stud spacing. So finally I went to my vice and hammered each saddle to be fixed and not to roll any more. (General problem of roller bridges: 1. Rollers clamp and don't roll 2. rollers cause sizzeling 3. not much in between!)
No good result! Next bad surprise: pickups sounding absolutely bad, garbage! No output, no tone, no character! Pickup wire wound very weak and then put over a strangely bent bar of steel - zink plated cheap bullshit! Then having placed a cheap creamic magnet underneath. On the other hand a genious way of adjusting pickup height! A double metal clip pushing up the pickup to be adjusted by two screws - letting it move up or go down.
Finally I have cut off the latches of two Fender style pickups (the area where the height adjustment screws take place) and have installed them into the Italian pickup housings. Sound acceptable but still not like my Diego Telecaster. So I have put a direct connection of the bridge "Fender"-pickup outside and a disconnecting cable inside to be disconnected of the guitars inside wiring. Much better sound! The volume and tone controls also have been in unusuable positions - as far as possible away from my fingers! So finally I removed all the electrics. There have been this fucking "sound"-switch where I discovered a fixed capacitor going to ground. And I tell you what will have been the sad truth: These fucking badly made pickups have caused such a feedback, that the Italians have had no better idea than to put this component to eliminate some treble so that their guitar could have been sold "better" on the foreign markets. This is shame! A lot of things done more than well and then a little fuckup causing an instrument to be unusuable! And these idiots did not go to their pickup manufacturer to disclaim and to have something better
So typically: finally a guitar built with a lot of good intention, beautifull pearl logo on the headstock, intelligent way to fix the bridge position, the tremolo marvel, largest tremolo arm of the world, nice fingerboard inlays, but ruined by stupid errors, strange pot positions, impossible pickups, bad quality tuners! Same like with all these Hoefners, Framus, Hagstroem, Kliras, Huettels, Hopfs and more... Finally the only great Italian brand were Wandre, Meazzi and Davoli!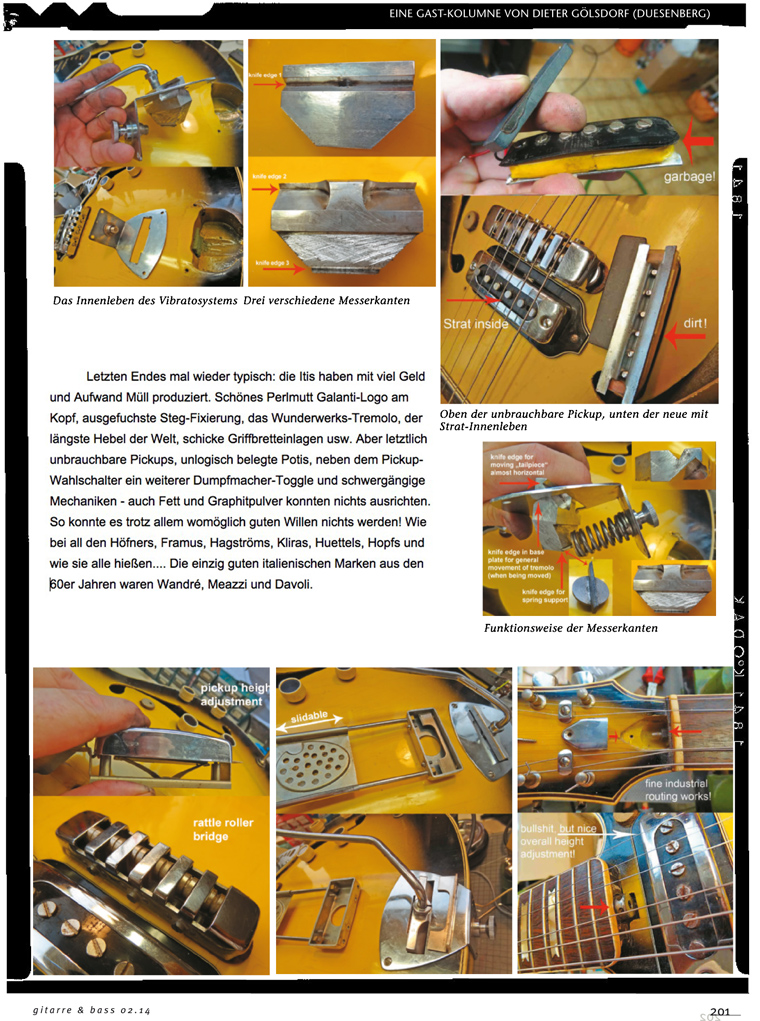 Z-Tuner
Our Z-Tuners had a knurled wheel as a "cap" over the housing and the gear wheel, which rotates when you operate the mechanism. Some unintelligent guitarists thought that you should somehow tinker with it, like with a lock mechanism. Far from it!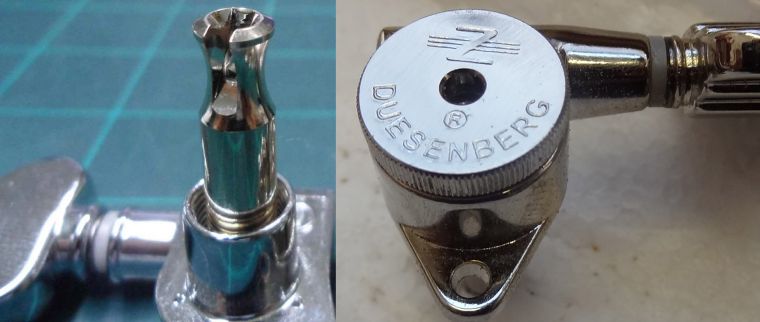 But in the end, in order to counteract such aberrations, I designed a new dust cap that closes the case in the conventional way. In the middle of course the hole through which the string is pulled and then cut off.


HSC-Bass-Pickups and more ...




In autumn at Chechu a Centollo celebration

CNC
There it finally came, the expensive tool, which should save us a lot of work and provide even more precision.